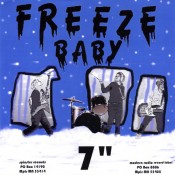 Album Info
Artist:
Freeze Baby
Release Date:
2003
Runtime:
Freeze Baby – s/t (7″)
Format: 7″
Released: May 2003
Engineers: Brooce Templeton
Studio: Analog Electric
Pressing: 300 clear blue vinyl, 3 test presses
Notes: The First 50 jackets say Modern Radio Records because of a printing error and the second 50 say Modern Radio Record Label. The last 200 have a black and white cover with a different design. Some copies of this record include a Freeze Baby patch. This is a split release with Spinster Records.
Side A: Boosh Hole, We The People
Side B: Punk Rock High School, Tragically Crucial