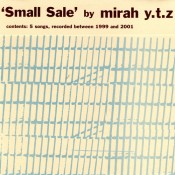 Album Info
Artist:
Mirah
Release Date:
2001
Runtime:
Mirah – Small Sale (7″)
Recorded: 2000/2001
Engineers: Bobby Burg, Mirah, Diana Arens
Studios: Mirah's house, Dub Narcotic
First pressing: 505 black, 8 test presses (2 additional pressings occurred with 500 records each)
Notes: 1st press covers have full color photograph on jacket. Sleeve design by K. Mroczek and Amber Bell Printed on Combination Press using silkscreen and letterpress and file folders. A small number of covers for the first press did not include the photograph. Dreamboat and Lone Star were previously released on a now out of print cassette called Parts of Human Desire that Mirah released herself. All 3 pressings of this 7: are out of print. However, all the tracks were reissued on a compilation CD called The Old Days Feeling.
Track Listing:
A: Don't Go/Dreamboat/Music
B: Birthday Present/Lone Star