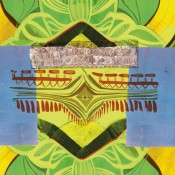 Album Info
Artist:
Daughters of the Sun
Release Date:
2010
Runtime:
Daughters of the Sun – Visions of the Ocean Head (LP reissue)
Originally released by the band in 2007 as a screen printed CD. The lineup consisted of Bennett, Nick and Ryan. Recorded at Old Blackberry Way with Neil Weir. Mastered at Magneto by Brooce Templeton. Pressing of 300. Jacket artwork was painted and designed by Lisa Luck.
Side A:
Follow Smoke
Beach Bodies
Whale's Blood
Talkin' Heaven Blues
Side B:
Light as a Feather
Motherland
4am Astral Projector