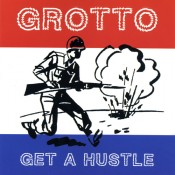 Album Info
Artist:
Grotto
Release Date:
2000
Runtime:
Grotto – Get A Hustle (CD)
Recorded: June, August 1999
Engineer: Mike Wisti
Studio: Albatross
Mastering: Doug Wild
Notes: First full length record.
Track Listing:
Get A Hustle
No Cure
3000:500
Side Projects
Area Code 320
98 Point 4 Degrees
Creeps and Cheats
Small Talk
Breaking My Law
It Burns
Like Father Like Son
Tom's additional notes: Jonathan Warnberg of The Misfires / Signal To Trust hipped us to Grotto. At the time, they had only a self-released 7″ out which was ok. After seeing them live, it came together.