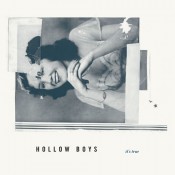 Album Info
Artist:
Hollow Boys
Release Date:
2013
Runtime:
26 minutes
Hollow Boys – It's True (LP)
Vinyl comes with a digital download card.
It's True is the first full length record for Hollow Boys, pressed on 12″ vinyl, in a limited run of 200. It was recorded, mixed and mastered in Ali's attic studio, Ecstattic Studio, from November – December 2012. It was finished on new year's eve. Artwork was conceived by the band and the jacket was designed by Colin Smith. It's True is a beautiful collection of gloom pop songs with a thematic range of how being young sucks and being old sucks, how the modern world sucks, how basically everyone sucks – and death. Points of reference lead to Echo and the Bunnymen, The Smiths, Wire and The Cure.
Side A:
Hater
Wild
Alone
Blinding Light
Winter Place
Side B:
Test Pattern
She
Slow Century
Untrue
It's True