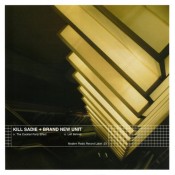 Album Info
Artist:
Killsadie & Brand New Unit
Release Date:
1999
Runtime:
Killsadie / Brand New Unit (7″)
Recorded: May 1999 (KS), February 1999 (BNU)
Engineer: Jake Snider, Tom Harpel (KS), Blair Calibaba (BNU)
Studio: Seattle Sound (KS), Red Stripe (BNU)
Artwork by: Bill Boulger
Pressing: 41 purple vinyl, 1039 grey vinyl, 8 test
Notes:The Cocktail Party Effect by Killsadie is a completely different version and recording than on their full length, Experiments in Expectation. Brand New Unit is the only band that Tom or Pete of Modern Radio have not seen live. They were friends with Killsadie. This record came out shortly after Killsadie moved to Seattle in 1999.
Track Listing:
Killsadie – The Cocktail Party Effect
Brand New Unit – Left Behind