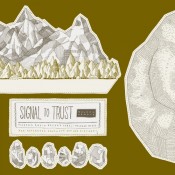 Album Info
Artist:
Signal To Trust
Release Date:
2006
Runtime:
Signal To Trust – Golden Armour (CD & Double LP)
Recorded and mixed by Bruce Templeton and Neil Weir at Old Blackberry Way and Crime Alley. Mastered by Bruce Templeton at Magento Mastering in October, 2006. Holly Habstritt sings on tracks 7 and 11 and plays trumpet on tracks 1 and 12. Additional vocals on track 12 by: Jeff Allen, Joel Anderson, Chris Besinger, Holly Habstritt, Andy Larson, Brandon Rouse, Jonathon Warnberg and Carl Wedoff.
CD packaging: 12 panels of dark green and olive paper. 3 colors printed on each panel, green, grey and gold ink. Hand drawn illustrations and type with full lyrics by Dan Black. The CD packaging was featured in Print Magazines Regional Design Annual for 2007.
LP packaging: 4 panel fold out, double LP cover on red paper. 5 colors, (dark red, gray, gold) on front, 2 color (dark red, gray) on back. Limited pressing of 272 each hand numbered. Design and printing by Dan Black at landland.net.
Each package includes cutout elements to assemble your very own diorama.
Track Listing:
1. A Young Girl's Heart is Broken in the Future
2. The Herald
3. Horse Thief
4. Fleets at Jutland Bank
5. Cosmic Cube
6. Seaspray
7. Silver Coast
8. Now the Mouse is Freezing
9. Brasilou Offensive
10. Beneath a Sea of Corrupted Dreams
11. Golden
12. Now We Got What You Got