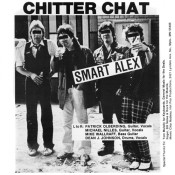 Album Info
Artist:
Smart Alex
Release Date:
2015 (reissue from 1979)
Runtime:
Smart Alex – Chitter Chat/Tonight 45
Minnesota, 1979. Four power pop whiz kids from the streets of Saint Paul pool their cash, enter the studio, and cut two killer mid-fi jams straight from the heart. Re-released here for the first time ever, in a limited pressing of 100 records, these sweet and scuzzy tracks are bursting with disjointed, blissful earnestness: 100% ragged Midwestern garage chops wedded to an astute sense of harmony that could only come from long years of Beatles-worship. The band, who shared the stage with early incarnations of Hüsker Dü and the Replacements (and even made preliminary plans with Twin/Tone Records for a debut LP), would split before they had the chance to cut a full-length. What they left us with instead, long a mega-rare relic, is a must-listen for devotees of obscuro, punk-inflected new wave.
Mastered directly from the original master tape in full cooperation with the band.
Includes digital download.