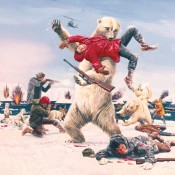 Album Info
Artist:
STNNNG
Release Date:
2005
Runtime:
STNNNG – Dignified Sissy (CD)
Recorded: July 10-12 2004
Mixed: September 11-12 2004
Engineers: Mike Lust
Mastered: Dave Gardner at Magneto Mastering
Studio: Phantom Manor
Notes: Cover art, used with permission, from the original painting by Mort Kunstler. It is titled Bear Attack. Vinyl version of this album was released by the band. A red sticker with the title of the record and band name is on all shrink wrapped copies. The vinyl is limited to 300 copies on black vinyl, 5 test presses. Full color insert and jacket with same artwork as CD. Vinyl and CD are out of print!
Track Listing:
A Topography of Boils
My Golden Oldie
Self-Harm Is The New Rock And Roll
Continental Dog
Explosive;More Intense
New National Anthem
George Washington
Ready The Replicas
People And Their Cell Phones
I Still Have My Fastball
I Am An Architect
How To Avoid An Assassination
Climbing Combines
Tom Loftus