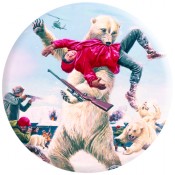 Album Info
Artist:
STNNNG
Release Date:
2012
Runtime:
STNNNG Playbutton – Dignified Sissy and Fake Fake
Comes with both STNNNG albums Dignified Sissy and Fake Fake loaded.
This 2″ button that you wear comes with a headphone jack and stores up to 70 minutes of music. There are forward/reverse, volume and equalizer controls and you have the ability to download the tracks onto your computer as well as upload another playlist onto the playbutton of your choosing.