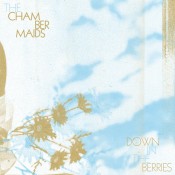 Album Info
Artist:
The Chambermaids
Release Date:
2009
Runtime:
The Chambermaids – Down in the Berries (12″ EP)
12″ comes with a free digital download of the album. Pressing of 300
Artwork was designed and screen printed by Wes of Burlesque of North America. It is 2 colors, gold and blue on vellum stock which allows the record to show through the sleeve. The record was recorded at The Old Blackberry Way and mastered by Bruce Templeton at Magneto Mastering.
Side A:
1. The East Place
2. Down in the Berries
3. 1982
Side B:
4. Hotel Islington
5. Lily
6. Bees
7. On to Me