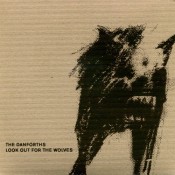 Album Info
Artist:
The Danforths
Release Date:
2006
Runtime:
The Danforths – Lookout For The Wolves (CD)
Recorded: 2004-2005 by Chris Danforth using Scottish Electronics and by Chris Danforth and Mike Selle at Mike's Studio
Mixed: Chris Danforth and Mike Selle
Engineers: Chris Danforth and Mike Selle
Mastering: Dough Wild at Wild Audio
Artists who perform on this album: Adam Burt, Chris Danforth, Neil Fasen, Adria Fernandez, Tom Kemmer, Adam Marx, Rachel Robinson, Mike Selle, Anna Stern, Freddy Votel, Jonathon Warnberg
Track Listing:
Goodnight in German
Milky Eyed
Look out for the Wolves
Goodbye, Buck
Oh Oh Oh Jamaica
He's Cool, Hims My Friend
A Machine Could Dig That Hole
I Saw Nathan Dancing
Movies in My Head
He's Cool, Hims My Friend
Tender Sheppard
Pretty Baby
Wheres My Soda?
He's Cool, Him's My Friend
The Last Gymnasiam Talent Show
Jamiaca
Notes: The Modern Radio version of this CD has different hand screen-printed artwork than the Essay Records version. There are only 200 copies of this version made. The packaging was made by Barrett Haroldson and Chris Danforth. The covers vary in the color of the paper and the ink used on them. It also comes with a small comic/coloring book.