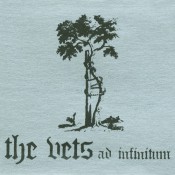 Album Info
Artist:
The Vets
Release Date:
2004
Runtime:
The Vets – Ad Infinitum (CD)
Recorded: January 2004
Engineers: Brooce Templeton with assistance from David Storberg
Mastered: Brooce Templeton
Studio: Analog Electric
Pressing: 1st Press-500 CDs with handmade covers
Notes: First press CD covers were screen printed by Scott Brown on a heavy black card stock paper with silver ink. The insert is glued onto the backside of the front cover and includes lyrics. The CD face design was laid out by Pete Mielech. All of the final packaging was put together by hand!
Track Listing:
Time Ghost
Clara Phelps
Raging Scathe
Journey
The Great Indoors
The Vets
Imaginary Fortress