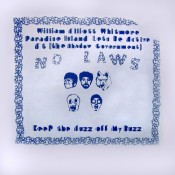 Album Info
Artist:
Various
Release Date:
2004
Runtime:
Various – Keep The Fuzz Off My Buzz (LP)
Recorded: Various studios 2003-2004
Engineers and Studio: various
Pressing: 550 black vinyl, 3 test presses
Notes: This is a LP that was released for the tour of Paradise Island(Jenny from Erase Errata's solo project), Will Whitmore(aka William Elliot Whitmore) and FT(the Shadow Government) who were joined by their friend Jarrett Mitchell who did spoken word/comedy under the moniker Let's Be Active.FT(the Shadow Government) is Joel Anderson(Ten Grand/Vida Blue) and Luke Tweedy with drums from Bob and Zach(Ten Grand/Vida Blue). They were also known as Flaccid Trip for awhile. The record covers are all screened differently in varying colors. All of these songs are exclusive to this compilation.
Track Listing:
Side A
1. Intro (Smelly Kelly)
2. Paradise Island-Affi Doshi (I Feed the Machine)
3. Paradise Island-Cosmic Deceiver
4. Free Pizza
5. William Elliot Whitmore-I'm Builing Me A Home
6. The D&D Convention
7. FT(The Shadow Government)-Who Invented the Difference?
8. Let's Be Active-Soundtrack to The Center of Babylon
Side B
9. Lets Be Active-Soundtrack to The Center of Babylon Pt. 2
10. FT (The Shadow Government)-Noble Flavors
11. Breaking Up With A Woken Body
12. William Elliot Whitmore-Farther Along
13. Free Pizza
14. Paradise Island-Boogie With Me Sooner or Later
15. Paradise Island-Serial Love Maker
16. Outro (Smelly Kelly)