Fury Things September to Remember with Weezer & Bob Mould Band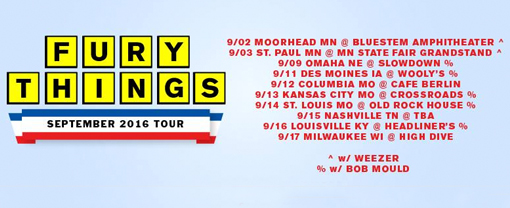 Labor day is NOT the end of Summer. Well as far as Minnesota goes, we have until the 22nd of September to warm ourselves outdoors before adding sweaters and jackets into the mix.
For Fury Things, the Summer Bummer tour went so well that they decided to extend the good times into September.
Five shows with The Bob Mould Band, two shows with Weezer and a trip south through the Midwest (ok, so are Tennessee and Kentucky part of the Midwest or the South?). Um, not too damn shabby!! They're stoked and rightfully so. These are the dates:
9/02 Moorhead MN Weezer with Fury Things | Moorhead, MN
9/03 St. Paul MN Weezer @ Minnesota State Fair in St Paul, MN
9/09 Omaha NE Bob Mould Band w/ Fury Things
9/11 Des Moines IA Bob Mould Band at Wooly's
9/12 Columbia MO Cafe Berlin (Columbia, MO)
9/13 Kansas City MO Bob Mould Band with Fury Things at CrossroadsKC
9/14 St. Louis MO Bob Mould Band
9/15 Nashville TN @ TBA (can anyone help here? Email the band at furythingsband@gmail.com)
9/16 Louisville KY 91.9 WFPK Presents: Bob Mould Band with Fury Things
9/17 Milwaukee WI Fury Things (MPLS) || Sin Bad || Bad Wig @ High Dive
The band's email is above if you want to help them with a show in Nashville or offer up other adventures in your hometown. We think you'll like them!
Before we go…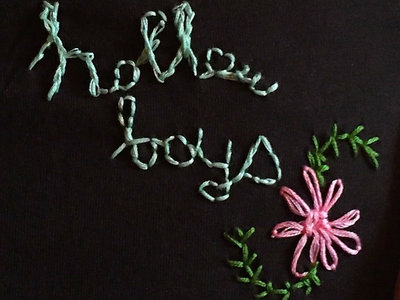 Hollow Boys now have embroidered shirts hand-stitched by Coleslaw
Motion City Soundtrack play their last two shows at Riot Fest Sept. 17 & 18 in Chicago.
Magnetic Ghost (Andy from The Vets) releases a debut LP "Loss Molecules" this Fall.
Tom can't stop listening to Martha's "Blisters in the Pit of My Heart" on Dirtnap. UK band that is a blissful romp somewhere between Chisel/Ted Leo and Superchunk. Blame Bob Adams.
STNNNG's new LP…more to come but yeah, we're listening to it and loving it! We still ride hard for this incredible band and always stood with them in the need for A New National Anthem.